There are a few steps required to generate a CSR in cPanel. Following them you will successfully arrive at the SSL activation step.
1. Log in to your cPanel account.
2. In the Security section click on SSL/TLS Manager.
You will see the following options: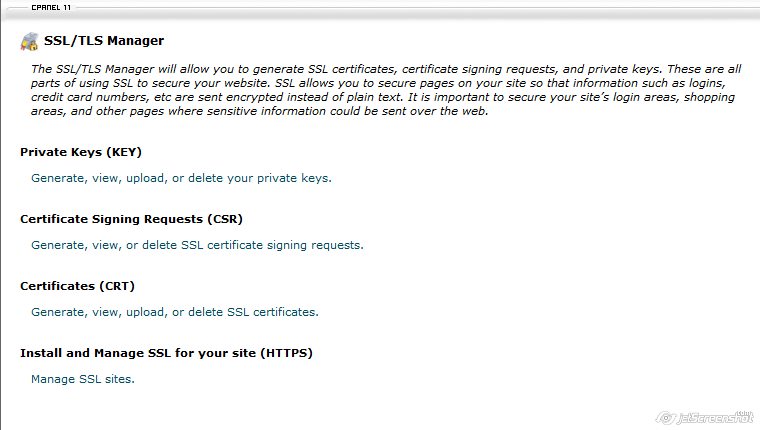 3. Generate Certificate Signing Request (CSR). For this, go to Generate, view, or delete SSL certificate signing requests in the Certificate Signing Requests (CSR) menu.
Make sure you select the option Generate a New 2048 bit key – there will be a completely new Key generated simultaneously with the CSR code. If the Private Key was generated in the separate option, just select it from the drop-down list.

=============
Enter the domain name you wish to secure. Please make sure you use a Fully Qualified Domain Name (FQDN).
*Important* If you have a Wildcard certificate, the domain should be specified with an asterisk to secure the subdomains as shown on the image below:
4. Fill in all the remaining required fields:
City (type the full name).
State (type the full name).
Country (select 2-character code from the drop-down list).
Company (if there is no such one, just state your domain name).
Company Unit (if you do not have such one, just use NA).
E-mail (enter any of your e-mail addresses – it will not be used for domain control validation or reception of the issued certificate).
Passphrase – we advise to leave it blank, because the pass is stored unencrypted in the CSR.
Description – just leave it blank as well.
*Important* Make sure you use alphanumeric characters only.
5. Once you have all the fields filled in, click Generate.
Congratulations! Your CSR is generated now.
Use the Encoded version for the certificate activation.

Copy and paste it into the corresponding box during the SSL activation process.