Status Checker is the tool for SSL in "Pending" state. It can be used to:
Log in
Go to My SSL, click "Details" next to SSL in "Pending" state
On SSL details page, click "Status checker"
On Status checker page:
Select "SSL purchased from reseller"
Enter Sectigo order number and domain name
Email — leave empty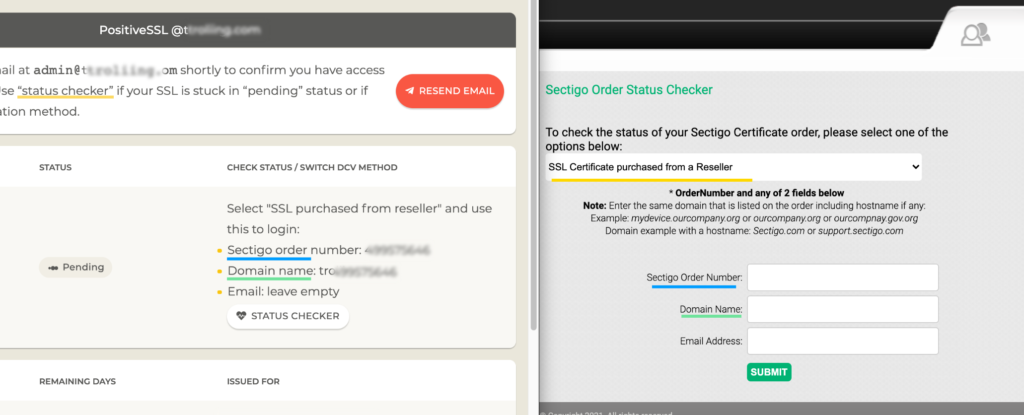 Change @domain generic email to WHOIS
Click "Change method" to make any changes to your domain control validation process.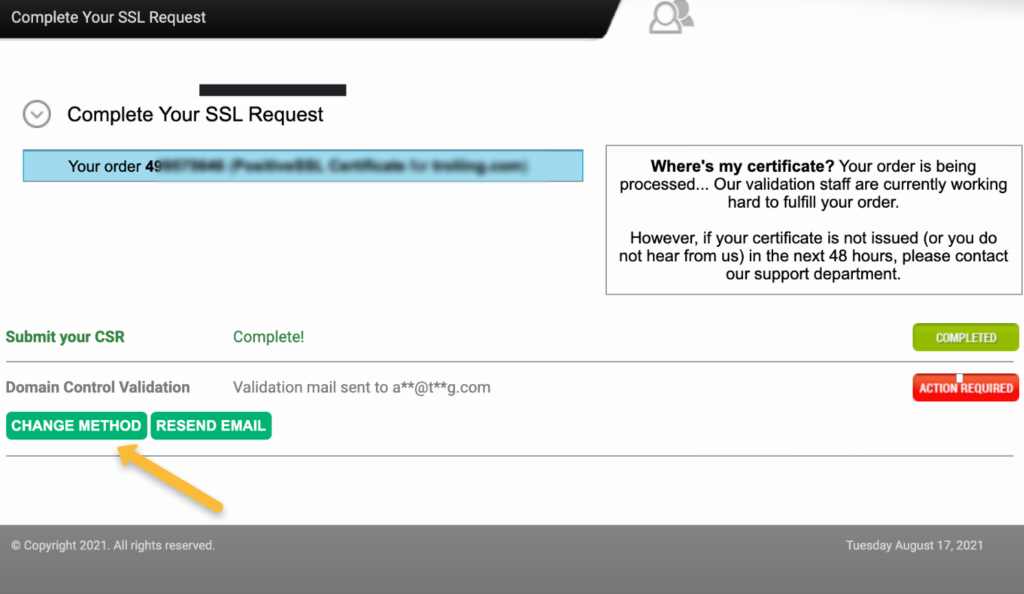 In a new window, you will be able to select WHOIS emails instead of a generic one. Or select another generic email you have access to.
Select an email address where you are able to receive a validation email from Sectigo and click "Change and Resend". More on email validation (+video tutorial).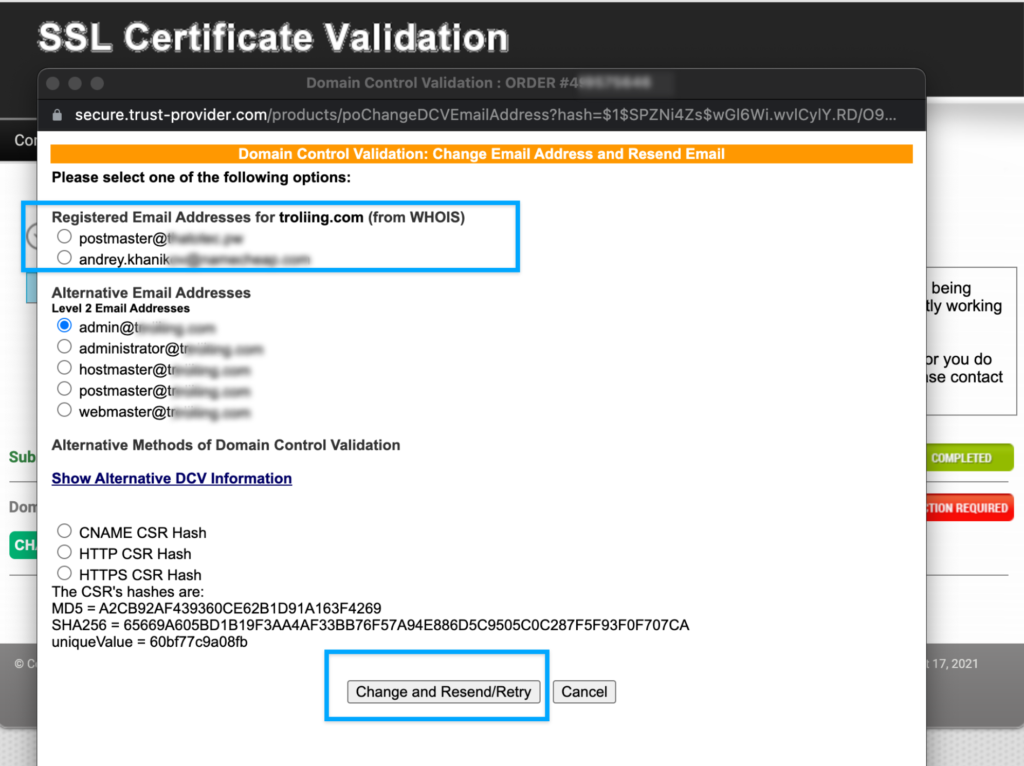 Use DNS domain control validation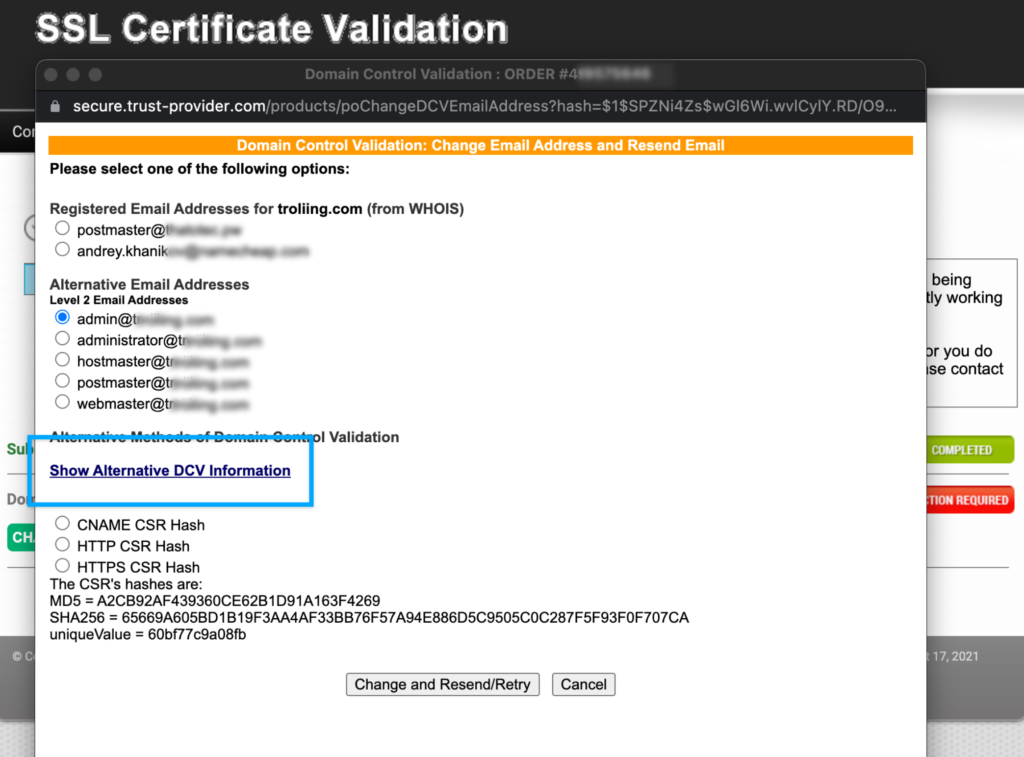 Add CNAME from "CNAME CSR Hash" to your domain control panel or contact your domain regirstar for help. 1 – Host, 2 – Target. More on DNS validation.
Make sure to replace "example.com" with your domain name.
Select "CNAME CSR Hash" and click "Change and Retry" as soon as you add CNAME to your domain's DNS zone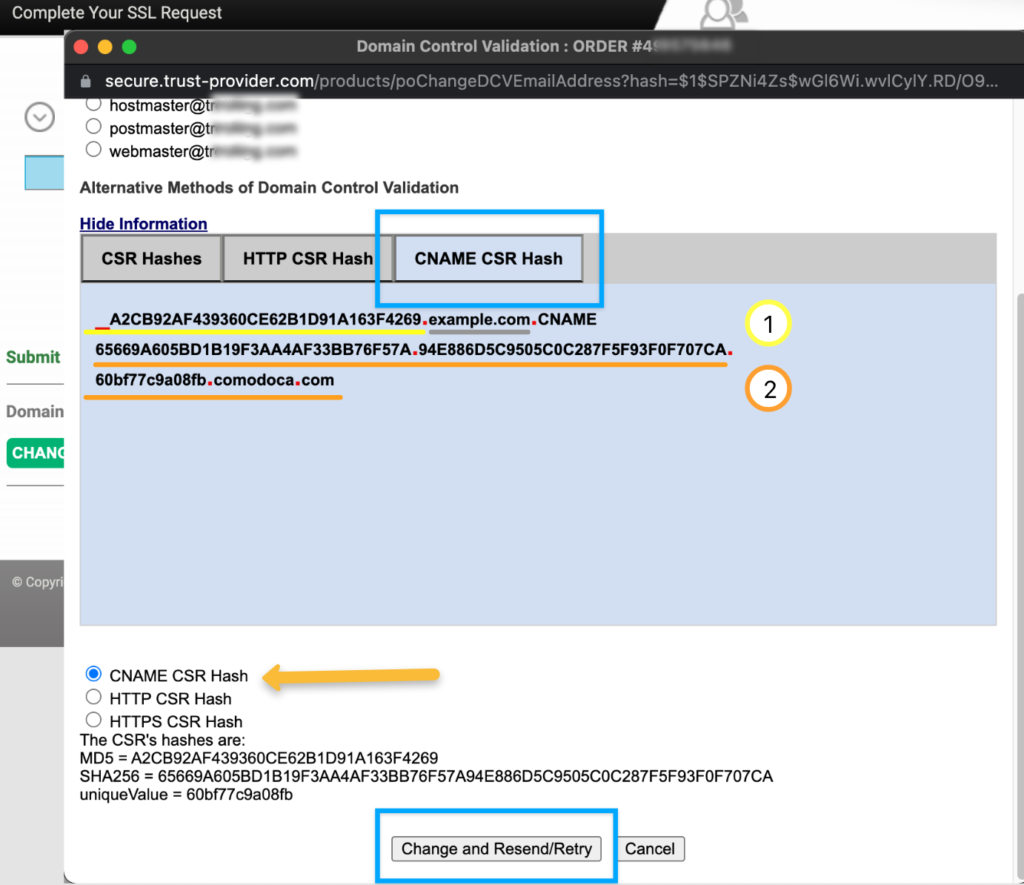 Use this tool to check if CNAME was added correctly https://mxtoolbox.com/CNAMELookup.aspx
If all is correct, mxtoolbox will show you this:

Note:
Domain name in mxtoolbox should be _VALUE.example.com, not _VALUE.example.com.example.com — some domain registrars will add example.com automatically, which causes domain name duplication when your Host value already contains a domain name.
Make sure to add Target value in 1 line, it may be 2 lines when you copy it.
Switch to HTTP domain control validation
Note: Starting from October 21, 2021, HTTP-based method will no longer be available to choose for a Wildcard certificatete during the SSL activation process in your SSLs.com account. From October 21 to November 15, you'll be able to switch your Wildcard SSL to HTTP validation via Sectigo Online Checker. Starting from November 15, HTTP-based method will be disabled for all Wildcard certificates. Learn more.
Create a file path http://yoursite.com/.well-known/pki-validation
Create a .txt file with the exact file name specified in "HTTP CSR Hash" tab — underlined with yellow
Enter the text specified after "The text file may contain:"
Save .txt file and upload it to pki-validation folder. More on HTTP validation (+video tutorial).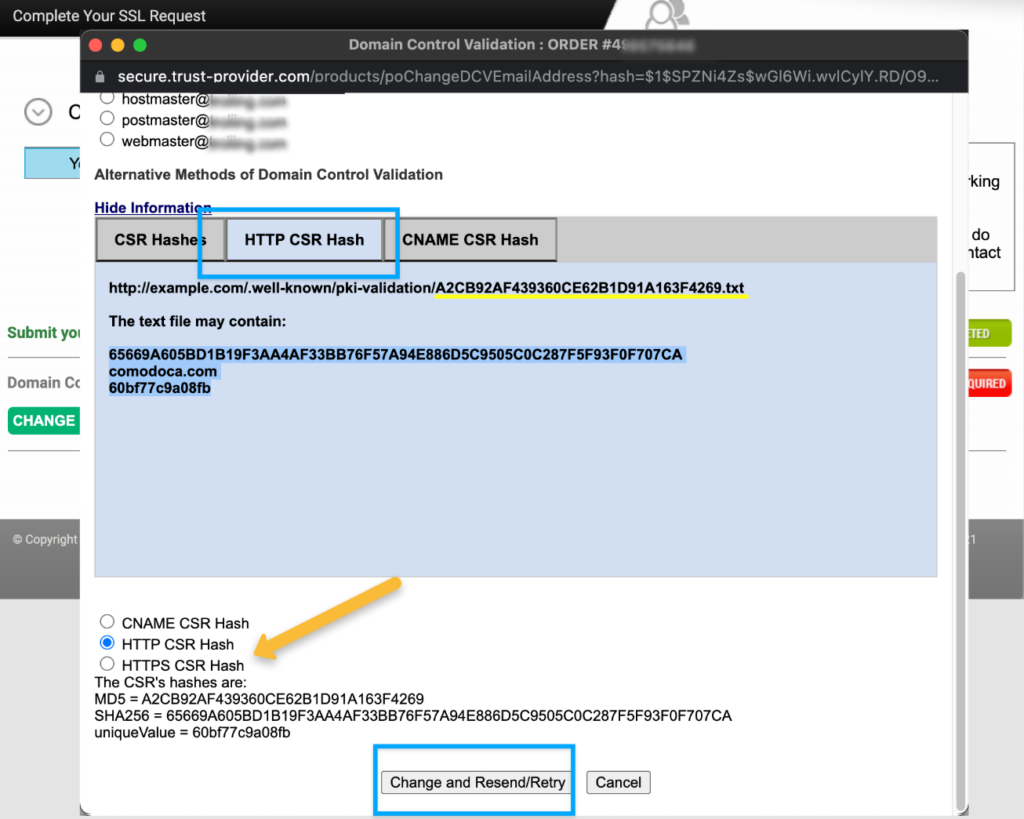 In our example .txt file will look like so: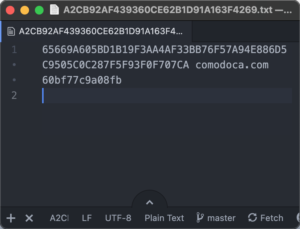 Track progress of OV/EV SSL
As you confirm you have access to your domain, your OV or EV SSL will still have "Pending" status as you confirm you have access to your domain, as they require company validation. On company validation you can read more here: OV checklist, EV checklist.
Status Checker provides more information on what exactly is pending and what you need to do next.
1. Callback Status
This option shows whether your company phone number has been verified. If it says "Verifying the phone number", it means that the verification is not yet complete.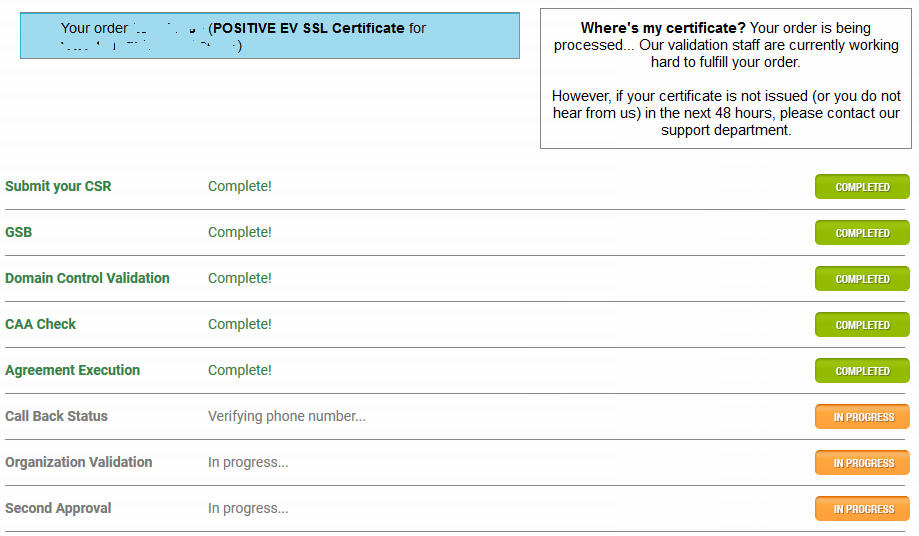 2. Resend Callback Email
Here you can resend the Sectigo callback email if it was previously lost.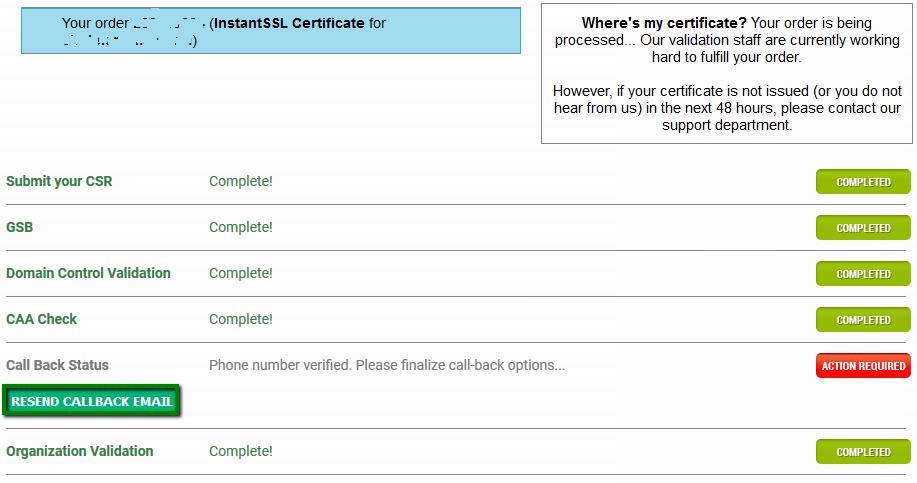 3. Agreement Email
Choose this to resend the Agreement email for your Extended Validation SSL to your specified email address. You can also change the email address you want it sent to.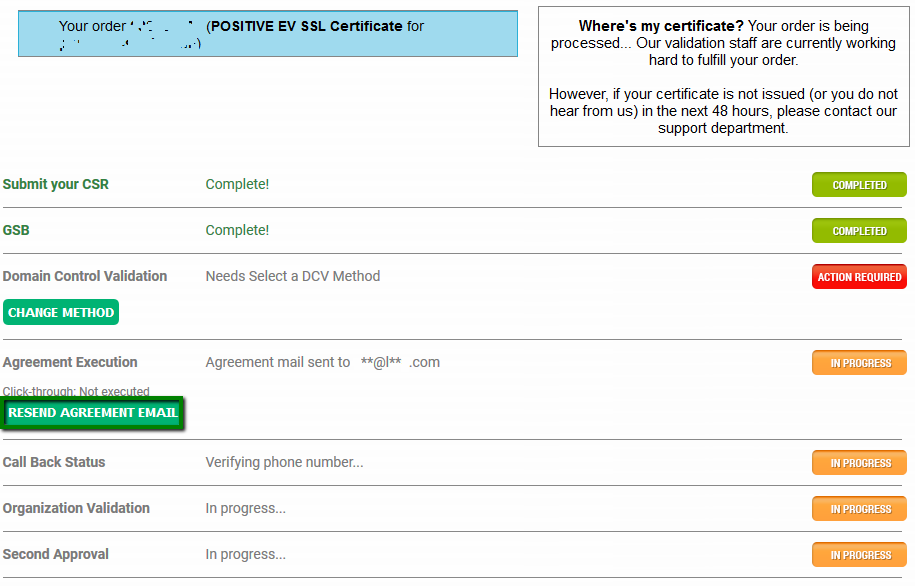 Once your business verification details have been checked, your order will be forwarded to the Second Approval team at Sectigo for the final review. This stage may take up to 2 business days and is reflected in the Order Status Checker: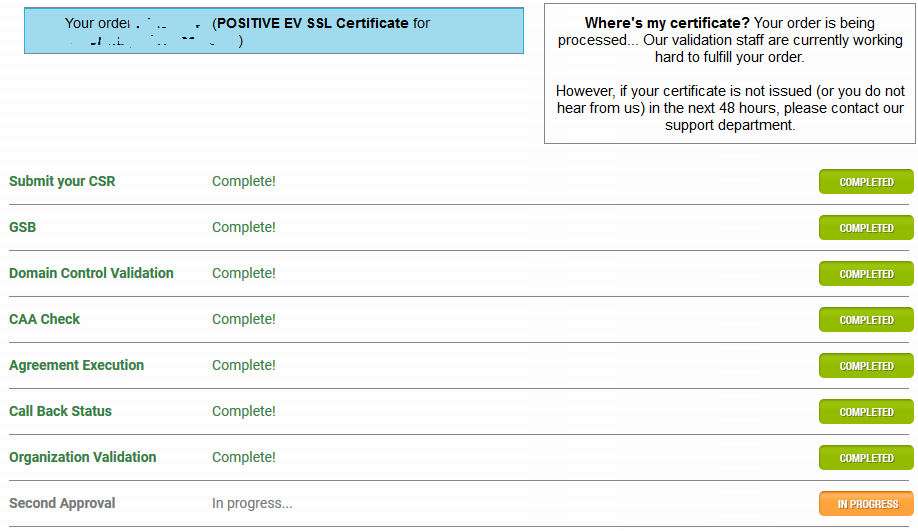 Once the Second Approval is completed, it will be shown in your order status: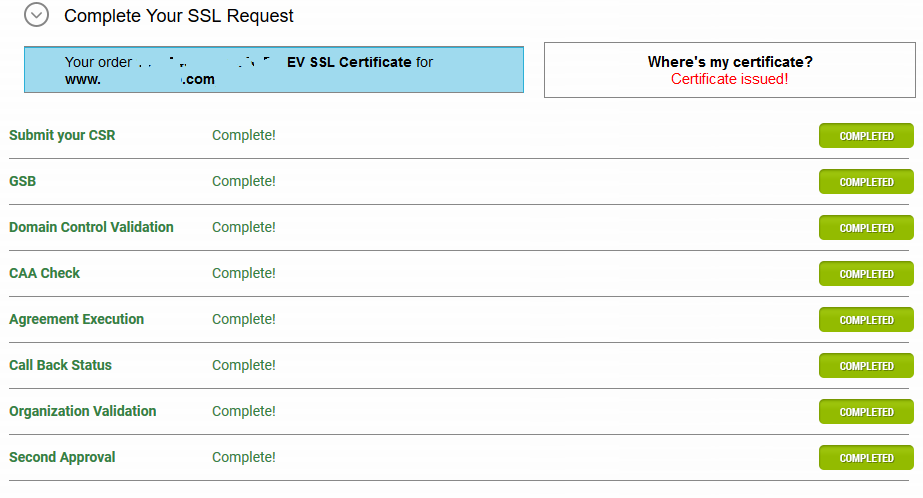 Once you see the green "Completed" status on all checklist items for your business validation, you can download the SSL files from your SSLs.com account directly or from the fulfillment email in which the CA sends the issued certificate.
Need help or advice? Please contact our Support Team 24/7.