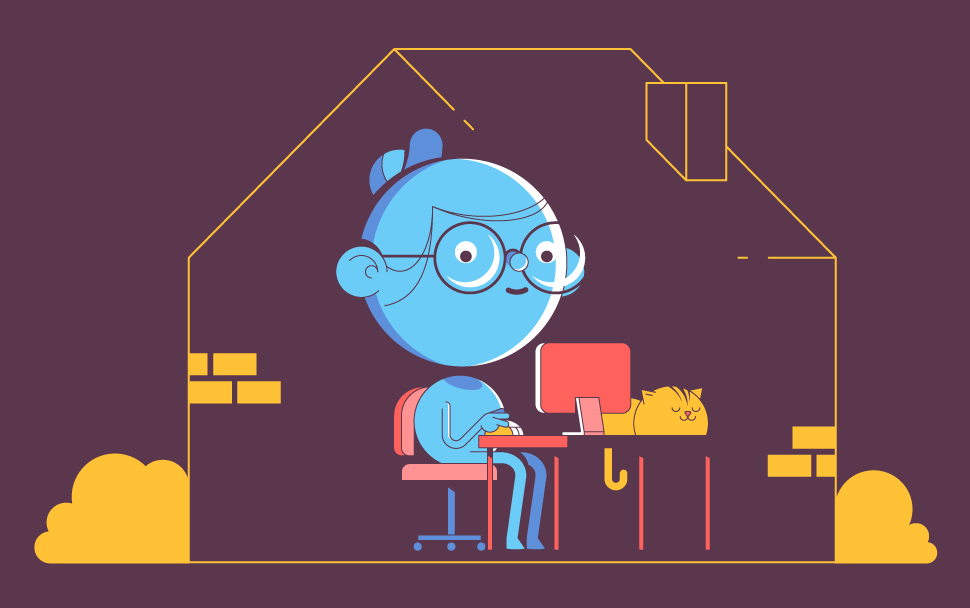 The coronavirus pandemic has had an unprecedented impact on modern society. Around the world, many people are sick. Some have died. To slow down the spread of the virus and "flatten the curve", numerous cities and countries have put in place social distancing measures, if not a complete lockdown. 

Beyond the threat to our health, for many people, it's changing the way we live our lives temporarily and could have a big impact on how societies work in the years to come. Entire cities have stopped moving, and international travel has come to a standstill. And more people will be working from home than ever before.

As we're not medical experts here on SSLs.com, this piece will mostly focus on the impact of the pandemic. We'll talk a little bit about the virus and how it has affected society in myriad ways in such a short space of time. But mostly, we'll focus on practical steps you can take to keep things as normal as possible during your transition to home quarantine: how to set up your home office; keep on top of things at work; and how to keep an eye on your mental and physical health. While disruption to everyday life cannot be avoided, there are things you can do to at least minimize it.

If you've already heard enough about the coronavirus and its impact, feel free to skip to the "working from home " section in the menu below.

First, let's talk a little bit about the virus and how to keep you and your fellow citizens safe from infection.
What is coronavirus?
You're likely already well aware of what the coronavirus is, but just in case you've been on a silent meditation retreat for the past three months and missed out on all news related to the pandemic, here's a quick primer.

The new coronavirus is a newly discovered virus that causes a disease called COVID-19. For most people infected, they will suffer only mild to moderate respiratory illness, but older people and those with pre-existing medical conditions may develop a more serious illness. Stats suggest that 80% of people get a mild illness which they recover from in a few weeks, 14% have more serious symptoms, while 6% are critical.

The new coronavirus has been shown to spread mostly through saliva droplets and nasal discharge when a person coughs or sneezes. The recommended preventative measures we should all be taking, according to the World Health Organization (WHO) and other health agencies, are ones of basic respiratory hygiene:

Sneeze and cough into your elbow rather than your hand
If you use a tissue, dispose of it immediately
Wash your hands frequently
Don't touch your face (particularly your eyes, nose, and mouth)
Maintain distance from those around you in public, especially those with symptoms (one meter)
If you get symptoms, stay home. If they worsen, call your local health authority and they will advise you on what to do next
For a more comprehensive overview of the Coronavirus and general explanation of viruses, take a look at this great video from Kurzgesagt – In a Nutshell on YouTube, which explains things a lot better than we ever could.

For the latest developments, check out WHO's website regularly, or consult your country's local health authority websites (such as the NHS in the UK or CDC in the US) for the most accurate and up-to-date information on the subject.
The impact of coronavirus
The most obvious place to start with the impact of coronavirus is health. Upon publication of this post, the latest updates from WHO are:

638,146 confirmed cases of coronavirus
30,105 confirmed deaths
203 affected countries, areas or territories
As territories rush to put in place containment measures and ramp up testing, these numbers may get worse before they get better. And, tragically, some countries, such as Spain and Italy, have been hit worse than others, with hospitals struggling to cope. Some scientists hope that the warmer weather will help slow down the spread, as studies have shown that the virus has a harder time spreading between people in warmer climates.

The next impact is economic. Measures put in place to slow down the spread of the virus inevitably affect the economy, and have done so from day one. So far:

Unfortunately, the economic impact isn't something that can really be avoided. When the entire worldwide workforce is at risk, it is a consequence that many won't be able to work. There can be no economy if there is no workforce. And, of course, there is no world without people. So protecting the world's people should be paramount above all else.

An unprecedented number of people around the world have already experienced job loss as a result. Companies, particularly small businesses, have been hit hard. Companies that are in a position to do so, have moved their workforce to work remotely. While many of us are in quarantine, workers deemed "essential" are still out in the world, working the front lines, for our benefit (healthcare workers, delivery drivers, and grocery store staff, we salute you!)

If your small business has been hit hard by the pandemic, Inc.com have put together a great resource of free tools and grants you may be able to avail of.

But enough doom and gloom. If you are one of the fortunate ones who has retained their job and will be transitioning to working from home for the foreseeable future, we have some tips on how to make the change as smooth as possible. Time to focus on some things you can control.
Here are some best practices for anyone working from home:
Familiarize yourself with your company's remote working policies
Check with HR to see if there are guidelines for working from home. It's a good idea to be on top of expectations and procedures from the outset, so that you can prepare your home office accordingly.
Boost your Wi-Fi
Take a look at your Internet plan. Could it be speedier? Update to the fastest plan they offer if you can. This is particularly pertinent if others you live with will also be working remotely. If you'll all be doing bandwidth-sucking tasks at the same time, like taking calls or conducting meetings, you could be in for a connectivity nightmare.
Utilize company tech
This goes for hardware and software. If your company provided you with a laptop, use it. Whether or not you have a company-supplied computer, you should use the cybersecurity tools they recommend, whether that be a firewall, setting up 2-factor authentication, a VPN, or antivirus protection.
Ensure all your computer's software is up-to-date
Updates and patches to software often address the security flaws of older versions. We've all guilty of occasionally clicking the "update later" option when a notification for updating software pops up on our screens. This is never a good idea, but in the current climate, it's an even worse idea. With an entire company workforce working from home comes more security risks. You don't want to be the one responsible all because you were too lazy to wait out a two-minute update. You can also opt for auto-updates, so there really isn't any excuse.
Use a VPN
VPNs are always recommended when you're using public Wi-Fi, but it's also good practice to use a VPN at home for added security. Many companies even have their own VPNs that remote workers can use to access internal work websites or servers. Whether it's a work VPN or your own subscription, you should get into the habit of keeping it turned on whenever possible.
Keep on top of communication
From the start, lock down your company's preferred mode of communication and how often you should communicate, whether it be daily updates or weekly updates via email or skype call. Wondering whether something is worth saying? Say it anyway. When teams are distant from each other it's best to err on the side of overcommunication so that there are no misunderstandings. Download all the company's recommended chat applications (Flock, Slack, Zoom, Microsoft Teams, etc.), sign up to the preferred video conferencing tools, and get yourself a good webcam and headset.

Beware of scams
As is so often, unfortunately, the case during uncertain times, malicious actors take advantage, trying to hoodwink people by preying on their fears. There has already been a huge influx of coronavirus-related phishing emails, with one major spam campaign mimicking the aesthetic of WHO. Other reported scams include: fake testing kits, cures, and vaccines; fake charity emails; and fake airline refund emails, all sent with the aim of stealing your personal data, credit card details in particular.

It's always important to cast a critical eye on emails claiming to be from a company you know or trust. As a general rule, companies you have an account with won't send you emails asking for your personal data. For more information, check out this helpful article by the FTC on how to recognize and avoid being scammed by phishing emails.
Keep an eye on your mental health
As those who already work from home are likely to know, mental health is a big factor to think about when you're spending a lot of time not leaving the house.

Things will be amped up due to worldwide social distancing measures. "Social distancing" is a pretty vague term and varies in strictness from place to place, but at its most basic it means staying at home as much as possible, only leaving the house to pick up groceries or get some exercise. Meeting up with friends isn't recommended. Neither is walking within one meter of people around you. No going to restaurants, cafes, or having Covid-19 parties.

For those that live alone, this is going to be an extra tough, lonely time. But it doesn't have to be. Here are some things you can do to stop yourself from going stir-crazy:

Maintain a regular routine
This means getting dressed, getting up at a set time, having meals at a certain time, taking breaks. In short, follow a schedule. This will help you keep on top of things so that you won't lose track of what day it is, ensuring that things feel normal(ish). This also means being strict with when the workday ends. Avoid reading work-related emails and messages at night, otherwise, the line between work and home will blur, which isn't healthy either.
Set up a dedicated office space
Fight the urge to work from bed (as much as possible, at least!). If you don't have another room to call your home office, it can be a desk in your bedroom or even the kitchen table. Use this place only for work. This doesn't mean you have to work from the same space all the time (in fact, some people find it helpful to change location every so often!), but the more you associate that one place with work, the easier it will be to plug into "work-mode" whenever you sit there.
Get some exercise (outside, if possible)
Contrary to popular belief, social distancing doesn't have to mean locking yourself up inside for the foreseeable future. This is of course, dependent on where you live — some countries are implementing stricter lockdown rules than others. But for the most part, getting outside to go to the supermarket, pharmacy, and a little bit of exercise is allowed (if you're not sick, that is). Studies have shown that even a short walk can do wonders for your mental health. Just be sure to keep a one-meter distance from anyone around you. If getting outside isn't possible for you, there are plenty of indoor exercises you can do to keep healthy and active however possible.
Stay connected (but not too connected)
Modern technology has made keeping in touch with friends and family simple, whether it be through a messaging app, email, or video calls. Make it a priority to check in with people regularly to see how they're doing. This is especially important if you're living alone. Schedule some skype calls so that you have the chance to speak aloud to someone other than yourself or your cat. Do try to limit your time on social media, though. While it's important to keep up with what's happening in the world, it can be easy to fall into a spiral of anxiety and speculation that isn't helpful for anyone. Steer clear of blatant misinformation and conspiracy theories in particular, and make sure you only get information from authentic sources (such as WHO).
Be kind to yourself
It cannot be emphasized enough that these are weird, weird times. If the transition to working from home isn't going as smoothly as you'd like, cut yourself some slack. Change is hard. And even the most seasoned remote-working veterans find it tough sometimes. In time, you will adjust, so don't be too hard on yourself. If there's anything that isn't good for productivity it's negative spirals of self-admonishment.
Wrap up
The current situation and the massive changes it's bringing about has left many of us feeling more than a little anxious. Whatever your situation, the most important thing is to focus on what you can control. For many of us, that means maintaining a positive attitude toward yourself and others during social distancing. By following the tips we've outlined in this article, we hope the transition to working from and social distancing a little bit easier.

While we're here, if you do happen to be in the market for an SSL, get 10% off your next purchase with the coupon "STAYSAFE" at checkout. If not, no biggy.

But most of all, stay safe. And wash your hands.